Nanoprecise wins Award for Best Industry 4.0 Solution Implementation
Nanoprecise Sci Corp has been recognized as the Winners of NASSCOM Centre of Excellence (CoE) Smart Manufacturing Excellence Awards, for the "Best Industry 4.0 Solution Implementation"
NASSCOM Centre of Excellence IoT & AI India, is a Digital initiative that accelerates innovation in IoT, Artificial Intelligence and Data Science by leveraging the strength and latitudes of India's IT industry. It is the largest deep tech innovation ecosystem in India founded with the objective to stimulate the AI start-up ecosystem and drive the country towards a digital transformation.
NASSCOM CoE hosted 'Smart Manufacturing Research Conclave' on Industry 4.0 with an objective to showcase developments in Industry 4.0 technologies and their applications with respect to real-life issues & case examples. The conclave presented 3 awards – for the Best Industry 4.0 Research Paper, Best Industry 4.0 Use Case and Best Industry 4.0 Solution Implementation by Start-ups.
The NASSCOM Centre of Excellence (CoE) recognized the innovative solutions from Nanoprecise for being adopted & deployed across the world. Nanoprecise has installed over 2500 sensors in India and more than 8000 sensors globally, to facilitate real-time condition monitoring of the machines & equipment sets.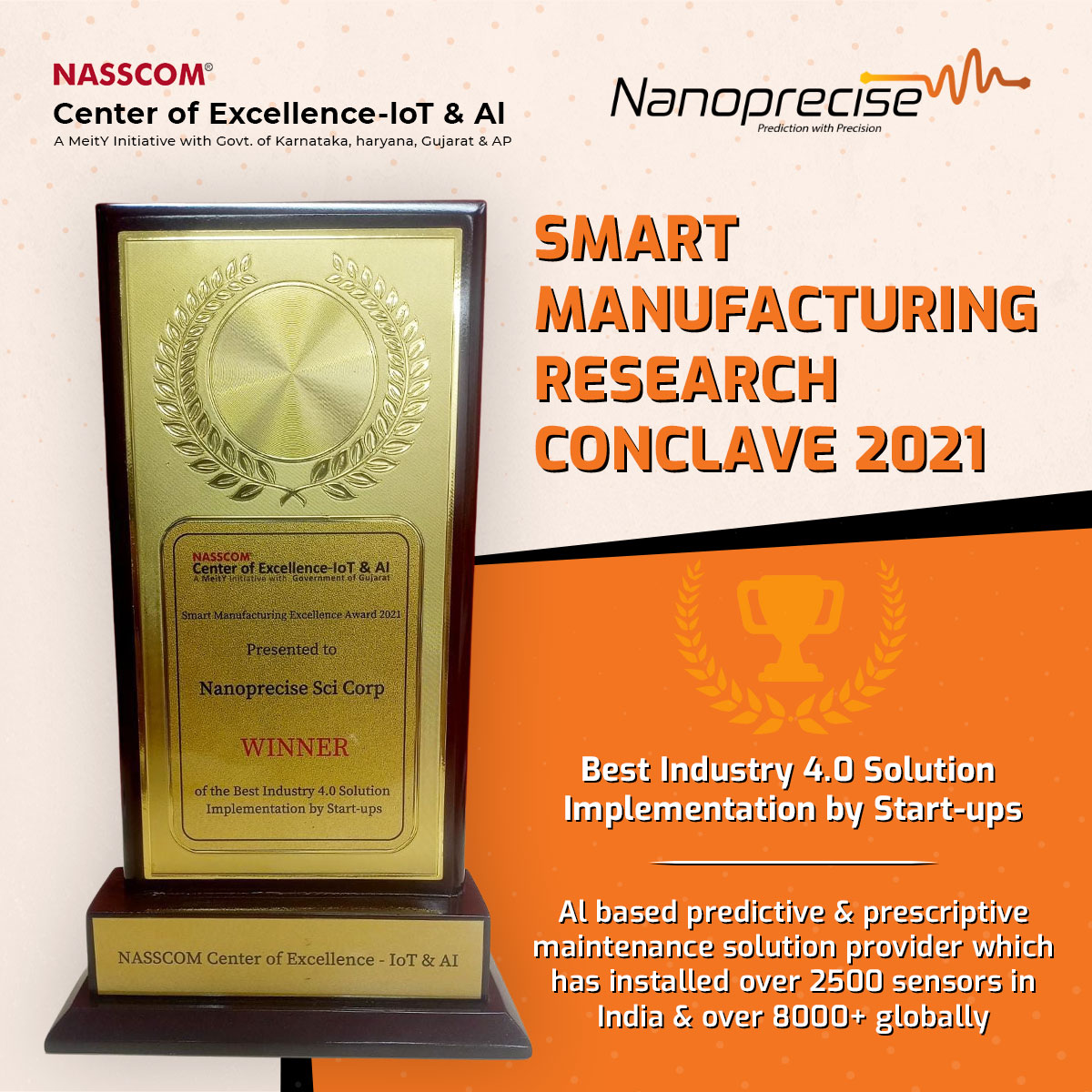 The award celebrates innovative solutions and its implementation from across the country. The honor recognizes our Predictive Maintenance Solution for its ability to offer real-time insights into the health and performance of the machines, combined with its ease of scalability across manufacturing plants. The automated AI-based Predictive Maintenance Solutions from Nanoprecise empowers maintenance and reliability personnel with the right data at the right time, thereby allowing them to make faster and more accurate decisions about maintenance activities. The solutions help professionals drive operational efficiency to help improve productivity and reduce unplanned downtime.
With state-of-the-art hardware and customized patented softwares, the team at Nanoprecise have been driving the digital transformation of the manufacturing process for companies across the globe. We enable all businesses, irrespective of the sector, to start their Industry 4.0 journey with a relatively small budget focused on key goals, while laying the foundation for IIoT implementation at scale.
Our global footprint continues to grow with new customers and partnerships across Asia, Europe, North America and Oceania. With continuous investment in our team of innovative and skilled professionals, we are empowering modern industrial personnel with the right data at the right time, to manage critical assets remotely from anywhere everyday.
About Nanoprecise Sci Corp
Nanoprecise is an automated AI-based predictive maintenance solution provider that facilitates early detection of even small changes in machine operations well before they impact production or cause downtime. The Predictive Maintenance Solutions from Nanoprecise work towards achieving productive results, by offering highly valuable insights about the equipment and machinery. With a combination of AI + IoT + LTE technologies, Nanoprecise is able to provide seamless monitoring solution.
For More Details, Visit our website www.nanoprecise.io