Nanoprecise Helps Customers Avoid Equipment Failures
Every year, it is estimated that more than half of production upsets in various industries are caused by unexpected equipment failures. These unplanned events are costly, adding up to millions of dollars in lost revenues for companies. But some say this problem can be avoided by using advanced predictive monitoring technologies. One of the companies offering this solution is Edmonton's Nanoprecise Sci Corp.
Nanoprecise has created a breakthrough monitoring system called RotationLF. Using wireless sensors and Cloud-based computing, the system collects data continuously on rotating equipment such as pumps, compressors and drive motors. Artificial intelligence algorithms process the data in real time to diagnose faults in the equipment and predict its remaining useful life. Remaining-useful-life determinations with more than 90 per cent accuracy are then delivered through a web dashboard and automated alerts through personal computers, smartphones or tablets.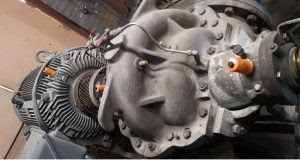 "We've combined the latest in material science and data analytics to create a powerful new system that monitors and predicts equipment failure, so customers can make the appropriate decisions and keep their operations running reliably," says Sunil Vedula, Founder and CEO at Nanoprecise Sci Corp. It's an innovative product the company is marketing to companies worldwide, with support from Alberta Innovates. With funding from Alberta Innovates through the Commercialization Associates program, the company has been able to hire marketing professionals, attend industry conferences and complete equipment certification. They've also attended business forums to network and learn from other innovators. This approach has been hugely successful. In a short time, Nanoprecise has expanded rapidly. Today the company has 18 employees and offices in Edmonton and India. RotationLF is being used in more and more industrial settings, including a sawmill and cogeneration plant in British Columbia, a steel mill, coal mine and airport in Alberta, as well as airport, power generation, fertilizer and smelter facilities in India. Plans are under way to introduce the system in oil and natural gas production sites in the U.S. "We've been able to really grow our company and our markets, thanks to help from Alberta Innovates," says Adam Crawford, Operations Engineer at Nanoprecise.
Read More: https://albertainnovates.ca/impact/newsroom/predictive-technology-helps-customers-avoid-equipment-failures/